For the most part, commercial cleaning companies can work with businesses in any industry. The big exception seems to be healthcare.
Since cleaners in health care environments like hospitals or research laboratories come in contact with different biohazardous materials and bodily fluids, they need special training before they can work in those settings. Most health care businesses require cleaning companies with the most experience in those areas to handle those jobs.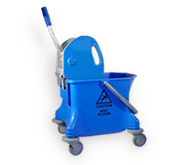 There are a few industries – restaurant cleaning and industrial cleaning, in particular – that have their own set of specific cleaning needs. While not as restrictive as health care, cleaning companies for restaurant and industrial cleaning jobs need to provide additional cleaning services that a standard office building wouldn't need.
Industrial cleaning
Cleaning businesses can provide experienced workers to take care of intense work in dusty environments such as factories, manufacturing plants, and construction sites, and public areas like major highways, gas mains, and sewage drains. For these types of cleaning jobs, you may need access to manpower and up-to-date cleaning equipment.
Some of the cleaning services an industrial cleaning company provides include the following:
Hydroblasting clogged drains
Waterjetting compacted gas mains from a distance
Washing light fixtures
Power scrubbing auto repair shops
Air conveyance to remove debris from chimneys, roofs, and gutters using high-tech vacuums
In addition to cleaning interior workspaces or outdoor areas, industrial cleaning companies can also improve the appearance of dingy common areas and worn out furniture to make them look good as new.
Restaurant cleaning
There are certain cleaning services essential to restaurants that aren't applicable to other businesses. You need a constantly clean dining environment for your customers and a spotless kitchen and prep area for your employees. It's also critical to keep food service businesses up to NFPA and FDA guidelines so you're well prepared for future fire and insurance inspections.
The following cleaning services are standard for cleaning a restaurant:
Pressure washing
Washing kitchen hoods
Keeping exhaust fans, ducts, and filters clean
Deep cleaning of tables
Emptying grease traps
Waxing floors
Sanitizing bathrooms (often multiple times a day)
Disinfecting and polishing mirrors, sinks, and toilets
Dusting mini-blinds, HVAC, wall hangings
Removing old food from the dumpster area (to prevent vermin infestation)
Pressure washing is probably the most important restaurant cleaning service. It uses powerful water streams and chemicals to remove loose dirt, debris, and grease stains which can be difficult to do by hand.
After that, your exhaust fans are an important concern. Neglecting the cleanliness of your restaurant exhaust system could become a fire hazard. Restaurant cleansers help remove odors and keep temperatures stable so your kitchen help is comfortable.