As a general rule of thumb, cleaning pricing is based off of your cleanable square footage and location.
Businesses in major metropolitan cities will pay more for cleaning services than companies in rural areas.
For instance, if you operate a 10,000-square foot office in New York City you could pay $0.05 to $0.10 per square foot. Meanwhile, if you operate out of a small town in Kentucky, you may only pay $0.04 to $0.08 per square foot. These amounts can increase by $0.10 to $0.40 per square foot as you add different services, more workers, or premium cleaning supplies to your contract.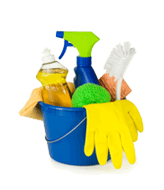 Another cleaning pricing consideration is the size of your office. As your square footage increases, you're eligible for deeper volume discounts.
Companies with smaller offices may pay a fixed rate depending on the number of services and the frequency of visits requested. Daily trash pickup and basic vacuuming costs about $500 to $800 per month for 3 to 5 days of service each week. Even smaller offices, such as a law office with a handful of employees or a small auto repair shop, may only need basic service once or twice a week for about $100 to $200 per month.
Cleaning pricing differs slightly for health care facilities. Since the cleaning company needs to be specially trained and provide additional services such as handling and transporting waste, they may charge a "loaded rate." This rate – generally $18 to $22 per hour – covers the cleaning costs, waste management, and the amount of square footage they can clean each hour.
Cleaning companies typically provide their own cleaning supplies and consumables for restocking as part of their services. If they charge extra, make sure it's detailed in the contract.
Special services rates
Costs for special services trend higher than day-to-day cleaning jobs. It may cost $0.10 to $0.15 per square foot to extract carpets and $0.20 to $0.30 per square foot to strip and wax tile floors. More intensive services like power washing or exterior window cleaning are considerably higher based on the size of the building, sophistication of the equipment, and quality of cleaning materials.
Contracts
Commercial cleaning contracts can range from 1 to 3 years. Reputable cleaning companies offer a 30- or 60-day "right to cure" clause in their contracts – if you're dissatisfied, they can either credit money back to you or allow you to cancel without penalty.
This is important for two reasons: it allows you to try out their services to see if they're a good fit and protects you from owing the balance of the contract to the cleaning company if you cancel before term.
Now that you understand cleaning pricing, the types of services a commercial cleaning company can offer, find out how it can provide a clean and safe working environment for your business. Submit a free quote request through Cleaning Service Comparison and get matched up to six different cleaning companies to begin comparing services and prices today.